Live
Like Bangkokian
Unwind, settle back, and experience the real Bangkok lifestyle at THA , A Localism residence that will expose Bangkok to the explorer like a legitimate Bangkokian Besides the comfortable rooms and well-selected amenities that we offer, Come experience the Bangkok vibes within our walls through various art pieces telling stories of 'Krung Thep' through the eyes of its inhabitants.
THA is located in the middle of Bangkok (Ekamai) therefore just a footstep out of THA and you will be surrounded by the histrionic spectacle of the city that never sleeps. There are many hip places and astonishing cuisines favorites amidst its local residence located around THA. Our location is also close to the BTS, sky train and the Bus stations for easy access and a jump start to your exploration of Bangkok.
Introducing T|H|A
T|H|A is a city Loft Hotel which consists of 5 floors and maintains only 64 rooms for your comfort and privacy. We have enlisted our accommodation into 3 types, which includes "The Basic space" for the Standard, Superior and Deluxe. Inside the room is fully furnished all and amenities such as water heater, refrigerator, TV LCD 32-inch color screen, a mini-bar refrigerator, cable TV (true vision), telephone with IDD, Hi speed Internet(Wi-Fi), coffee & tea making, Electric kettle and others to ensure a delightful stay for our guests.
Superior Room
The superior room is 20-22 square meter and features one full king size bed. The bathroom has a stand alone shower. This type of room has no windows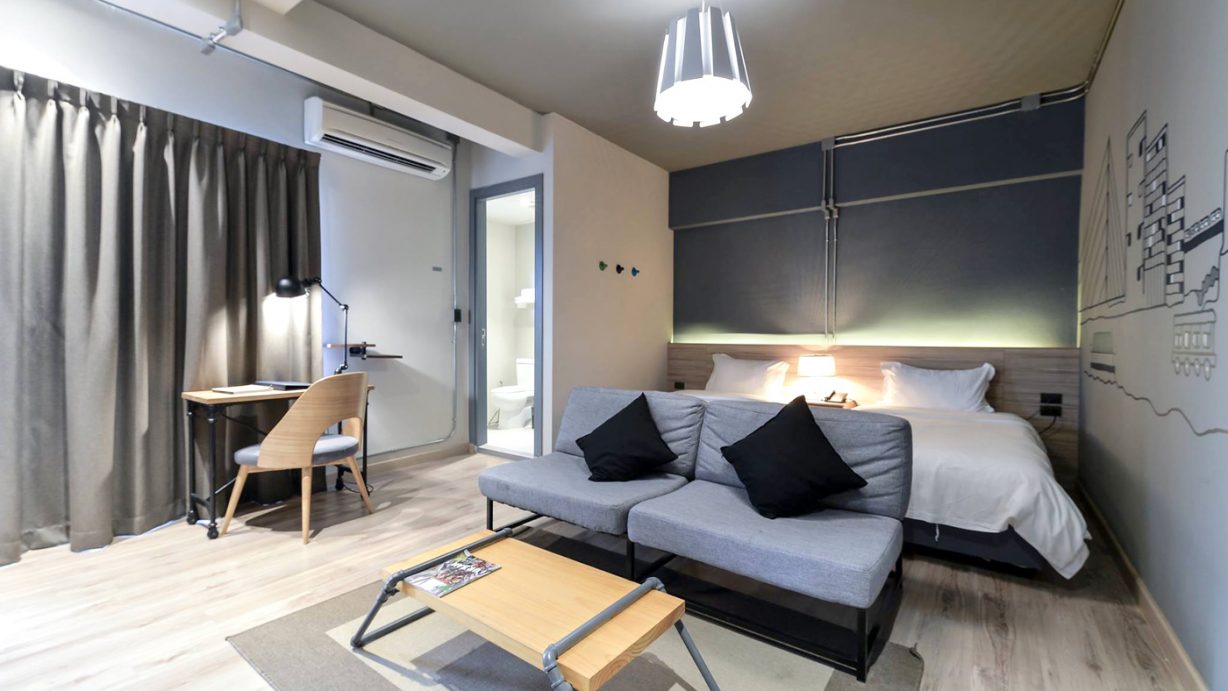 Deluxe Room
The deluxe room is 32-34 square meter and features one full size king bed. The bathroom has a standalone shower with windows and city view.
Well-selected
We consider every detail on things to offer to valued guests. Therefore, we focus on premium quality of amenities, designs, beddings and comforters as they are one of the things we primarily concern. Everything that is in THA has been carefully selected by professionals or expert to ensure guests' pleasant stay.
Uniqueness
Tha, a hotel situated in the heart of bangkok. Accented vibes of loft and industrial ambiances are conveyed throughout its premises. Hints of green atmospheres are scattered to create a zen and relaxing sensation. Discover bangkok's rich legacy throughtout the walls and halls of THA. Each room unique to ones self with hand painted depicts of the Bangkok living.
Bangkokian guidance
Trek around bangkok, following the bangkokian foot steps. With Tha's personal to the hippest destinations in town. Our mindful choices in Shops, Music, Bars and restaurants that will change your mindset of Bangkok comprehensively!